What is Community Paramedicine?
Community Paramedicine (CP) is a model of community-based health care where paramedics use their education and expertise in non-emergent mobile integrated response.  The Community Paramedics provide immediate or scheduled primary, urgent, and/or specialized healthcare to vulnerable patient populations while focusing on improving equity in healthcare access across the continuum of care.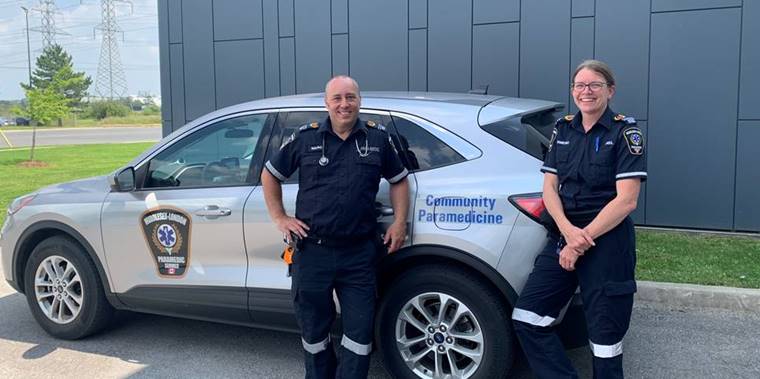 The CP program has rapidly expanded as a specialized and integral division within Professional Standards to support Middlesex-London Paramedic Service (MLPS) reduce non-essential 911 calls, Emergency Department presentations, and hospital admissions. A core value of CP is to provide additional supports and connections for high risk or vulnerable individuals, and support the province's modernization plan to address systemic barriers in health care. CP provides care to a variety of patient populations through several specialized programs.
"Massive gratitude for timely assistance. Both paramedics were so compassionate! Don't let these two amazing paramedics leave!"
Community Paramedicine for Long-Term Care (CPLTC)

About:
Mandated by the Ministry of Long-Term Care to provide 24/7 access to CP for non-emergent procedures and services for patient's who are waiting for placement in a long-term care home, patients who are soon to be eligible for long-term care, or patients with specific chronic conditions. CPLTC team members undergo specialized training which allows them to provide non-emergent mobile response and work in

collaboration with a patient's primary care providers to perform a range of community-based primary care services in the comfort of a patient's home. Community Paramedics are authorized to provide a range of services outside their traditional role under the direction of a Medical Advisor, and delegated by the patient's primary care physician or palliative care provider.

Criteria for Referral:

Those on the wait list for Long-Term Care
Those who have been assessed as eligible for Long-Term Care by a Home Community Care Support Service Care Coordinator
Those who are soon to be eligible for Long-Term Care
Those who are on the Long-Term Care crisis wait list
Individuals with specific circumstances or conditions that would benefit from community paramedicine services
Health Outreach Mobile Engagement (HOME)

About:

HOME is a multi-disciplinary, multi-sectoral mobile response team with specialized training to improve the health outcomes and health equity of marginalized individuals in London who are experiencing homelessness, are insecurely housed, or are rostered with the London InterCommunity Health Centre. HOME provides primary care, harm reduction, support with substance use, basic needs, and wrap-around care services directly to individuals where they are at. On a rotation of alternating days of the week HOME provides mobile response for targeted patient engagement, as well as a primary care clinic stationed at various locations in support of people in congregate settings.    

Website:
https://www.homeprogram.ca/
Community Outreach and Support Team (COAST)

About:
St. Joseph's Health Care London (St. Joseph's), Canadian Mental Health Association Elgin-Middlesex (CMHA), London-Middlesex Paramedic

Service (MLPS), and London Police Service (LPS), have partnered together to develop a proactive Crisis Outreach and Support Team (COAST). COAST provides a community response strategy for individuals experiencing mental health crisis to assist with medical assessments, de-escalation techniques, diversion from medical intervention where appropriate, and facilitation of transition to acute care when required to ensure positive outcomes for the individual. 

Website:
https://cmhamiddlesex.ca/coast/